About Doctor Maggio – Virginia Beach Chiropractor and Weight Loss and Management Specialist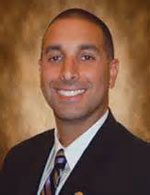 Doctor Maggio's main goal to help people find relief from pain and achieve healthier lifestyles. some important aspects about Dr. Maggio are the following. He is careful to listen to what his patients tell him. He takes time to explain things in plain English, and allows patients to decide for themselves what kind of treatment plan they would like to embark on.
For some fast pain relief and weight loss is desired. For other patients pain relief and long term health goals are their concerns. Dr. Maggio excels at listening to his patients tell him what their priorities are, so he can give his patients the best possible recommendations for their health goals.
Doctor Maggio is well-known in chiropractic circles, as he has trained more than 10,000 chiropractors throughout the country on how to properly use the Computerized Pulstar ProAdjuster system. He has counseled other medical professionals on how to run efficient clinics and how to improve the patient experience.
Doctor Maggio is also well-respected in the Hampton Roads and Virginia Beach area medical community He has taught continuing education classes to physicians. His office consistently receives patient referrals from primary care physicians, neurologists, and orthopedic surgeons.
Doctor Maggio has management weight loss programs for over 15 years with great success. His physician supervised programs allow him to work directly with dieters to achieve fast long lasting results. Doctor Maggio will assist his weight loss clients to the best of his ability to ensure a positive experience.
Our medically developed weight loss protocol and smarter lifestyle choices education offers dieters what they really want…a structured program that can put an end to constant dieting.
Business Hours
Monday:
10:00am - 6:00pm
Tuesday:
10:00am - 6:00pm
Wednesday:
10:00am - 6:00pm
Thursday:
10:00am - 6:00pm
Friday:
9:00am - 1:00pm
ProAdjuster Chiropractic Clinic is Authorized to Use the Ideal Protein Weight Loss Protocol and Products. The testimonials on this website are those of the individual that is identified, you should not necessarily expect to receive these results. Typical results vary from person to person and individual to individual when the Ideal Protein Weight Loss Protocol is followed properly. You should consult your physician or other health care professional before starting this or any other diet program to determine if it is right for your needs.
525 S Independence Blvd Suite 190 Virginia Beach VA 23452 – Phone: 757-473-9900
Copyright © 2018 Ideal Protein All rights reserved.